If you're anything like me, it can be so easy to drink away your calories for the day. Without even thinking, I will drink Frappuchinos and slushies and sweet tea, and then realize what I've done. This summer, I wanted to try making some things that were a little healthier. So, here are some of my picks for some healthy summer sips and snacks!
End the night with a cup of tea.

In Spain, I found a love for tea, which I've continued to drink all summer long. Hot or iced, tea is a great thing to sip on. One key part of my nightly routine is making myself a cup of hot tea before bed. I'll sit and read a book or pin things to my Pinterest as I relax over the tea. This is one of my favorite aspects of my nightly routine that I look forward to every day.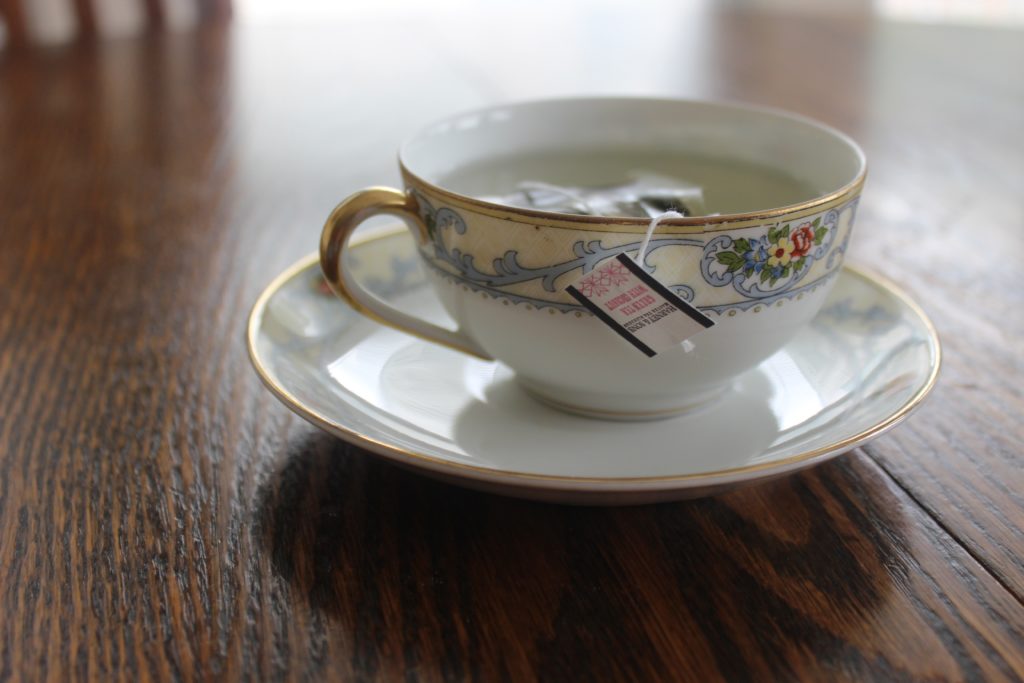 I also have a newfound love for infused water. Today I wanted to share my favorite recipe for infused water so you can add some sweet flavors to your water! There's countless other combinations but the one below just happens to be my fave. Usually, I let my water sit 1 to 4 hours for the flavors to really shine!
Strawberries + Blueberries 

Oh my, I could go on and on about this one, because I think it's my favorite thing to drink. I already am a huge fan of water ~ I'm always carrying around a water bottle, but it's even better when it's accessorized with berries! I mean really though! You'll not only be drinking more water, but also have a fun snack at the bottom of the glass. 😉
Those are basically two of my favorite things to drink that help me stay healthy…as opposed to always having a drink from Starbucks that's full of calories and expensive! I've also been snacking on some healthier things lately as well. With a fresh fruit stand right by my house, Josh and I have been going and buying fresh fruit more than ever ~ it makes me so happy!
Hummus + a Side. 

I've been absolutely addicted to hummus lately. After getting home from Spain, my mom bought me a new flavor that I'm now obsessed with! Sabra's Olive Tapenade Hummus for the win! And as far as things to serve with your hummus goes…the options are endless. My personal favorites are pretzels, Tostitos scoops, carrots, and celery sticks.
The final thing that I've been snacking on all summer long are yogurt bowls. Seriously this is one of the easiest things that you can whip up and it is delicious! The best part is that you can use whatever fruit you have on hand at the time, so it really works in so many ways!
Yogurt Bowls

I love yogurt bowls. So much. All I do is take a prepackaged yogurt cup and dump it into a bowl. Then, I pour a bit of granola and fruit on top of it and mix it all up. As you know, my favorite fruits are strawberries and blueberries so usually my bowls have a bit of both of those fruits on top, but I've also had pineapple, melon, and kiwi on top and it has been delicious as well.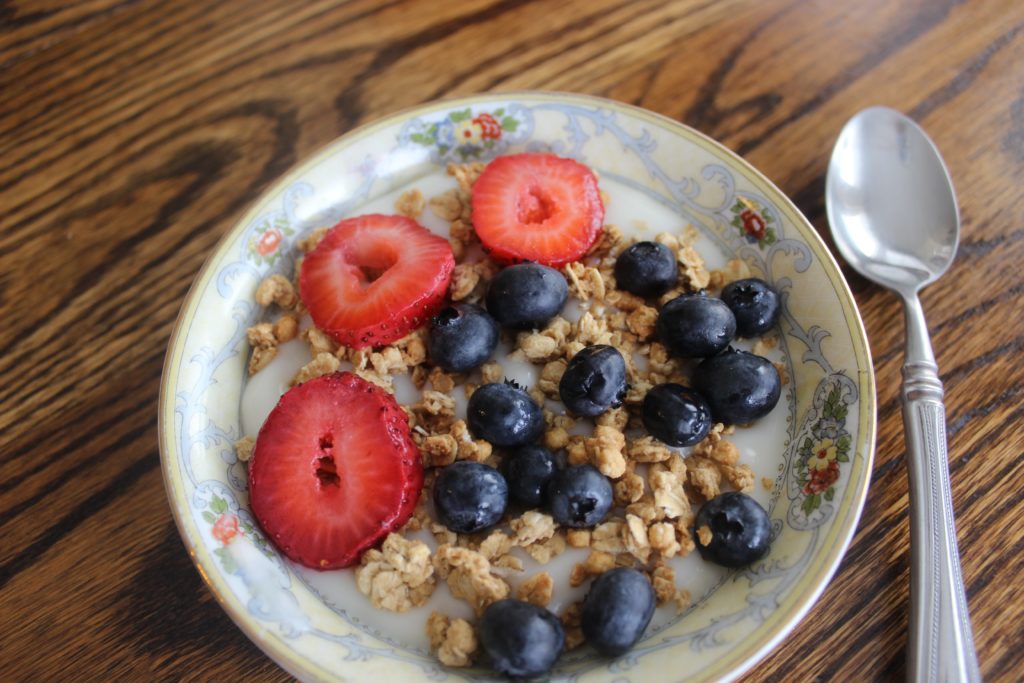 As you can tell, it's not like I go all out or anything to make my drinks or snacks. They are pretty simple, but they are fast and easy to make, and also motivate me to stay healthy. What are some of your favorite drinks and snacks that help you stay healthy?
Much love,
Olivia