Ireland was the final destination of our three week long spring break. By the time we arrived in Dublin by way of Budapest, we were pretty much crabby and exhausted, to be quite honest. I was getting extremely sick at this point of the trip, and there was even a point when we were in Dublin when our friends wanted to go explore, but Josh was kind enough to stay with me at the hostel to watch Braveheart, because I was so sick.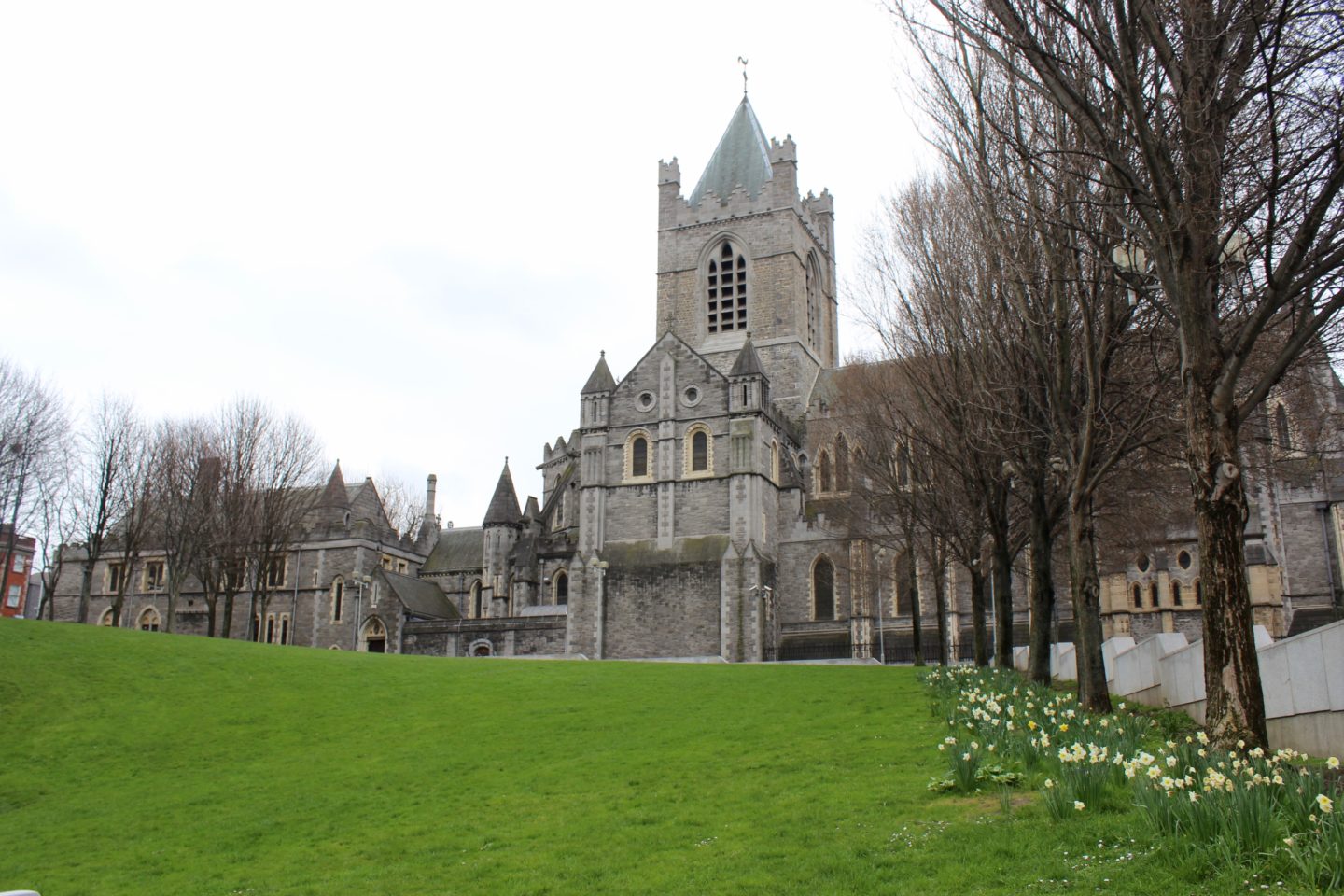 If you were to ask me about our hostel experience, I would probably have nothing good to say about it, but I think that I really need to try the experience again. Since my first time at a hostel was as a wiped out, miserable version of myself, I think that I cemented my harsh opinions before giving the hostel experience the chance it deserved. Normally, I'd like to think that if I were feeling healthy and all was well, I would have been sociable and tried to make a ton of friends at the hostel. However, since I was dealing with sickness, the rowdy other occupants of our hostel room only annoyed me with their late night drunken shenanigans and 2am bouts of incessant coughing! We spent a Thursday evening – Sunday evening in Ireland and it was probably the most perfectly allotted time out of any of the cities we traveled to over spring break. Some of the cities we visited, we felt like we needed so much more time, while others, we felt like we spent way too long in (ahem, I'm looking at you, Brussels).
On Thursday night, we found ourselves eating pub food (I enjoyed some amazing beef stew), then meandering over to a stand up comedy show. This was an incredibly enjoyable experience for us because there were a lot of locals at the show, and the emcee had quite the time making fun of Josh throughout the show; he's a pretty easy target, hehe! 😉 After the show, we wandered back to the hostel, which was situated on the edge of the Temple Bar district of Dublin. I loved walking the streets of Dublin and, despite the seemingly constant dismal skies and drizzling rain, it was quite picturesque.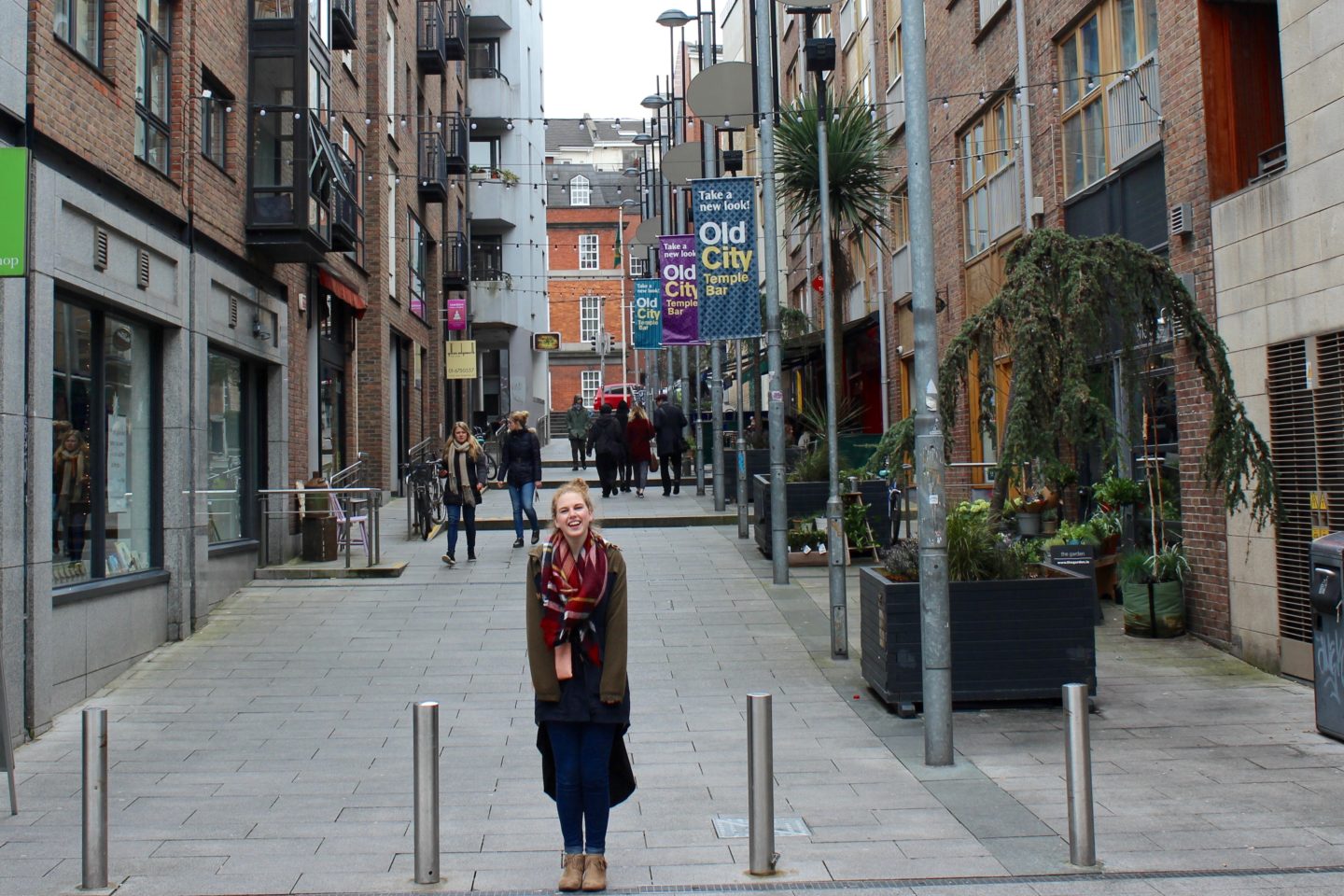 Friday morning, Josh surprised me by waking me up in the hostel with a cup of coffee and medicine that he had gone out to buy for me earlier in the morning. It was such a nice surprise and I was so thankful for that, because that was just what I needed to feel good enough to get started for the day. After grabbing breakfast at the hostel, we headed to an early morning walking tour of Dublin. Like I've said before in other posts, Josh and I tried to take advantage of the fact that most cities offered free walking tours whenever we traveled to new places. This allowed us to not only get a good grasp of the city where we were staying and learn about the top attractions to check out, but we always learned so much history behind the city. It was a great mix of culture and history, and we always walked away feeling so much better informed than when we arrived.
After the walking tour, Josh and I revisited some of the places from the walking tour that were interesting to us, including places like Christ Church Cathedral, the Spire of Dublin, St. Patrick's Cathedral, more of the Temple Bar District and more.
One thing I forgot to mention was that when we landed in Dublin, the sweetest couple gave us their bus passes because they were heading home, but they still had a few days of rides left on their passes. So, Friday afternoon, we took advantage of our bus passes and simply rode the tourist line for a bit, to see some of the sights that were recommended. We ended up at the Guinness Storehouse. This was honestly such a cool experience. Not only was it informative, historically fascinating and fun, but the top floor of the Storehouse had a bar and restaurant with one of the best views of Dublin. I would recommend the tour of the brewery if for nothing else but the view! All of the days that we were in Dublin were completely dreary and overcast, but from my understanding, that's pretty much the norm. So the photo below is a pretty great shot, taking the weather into consideration! 🙂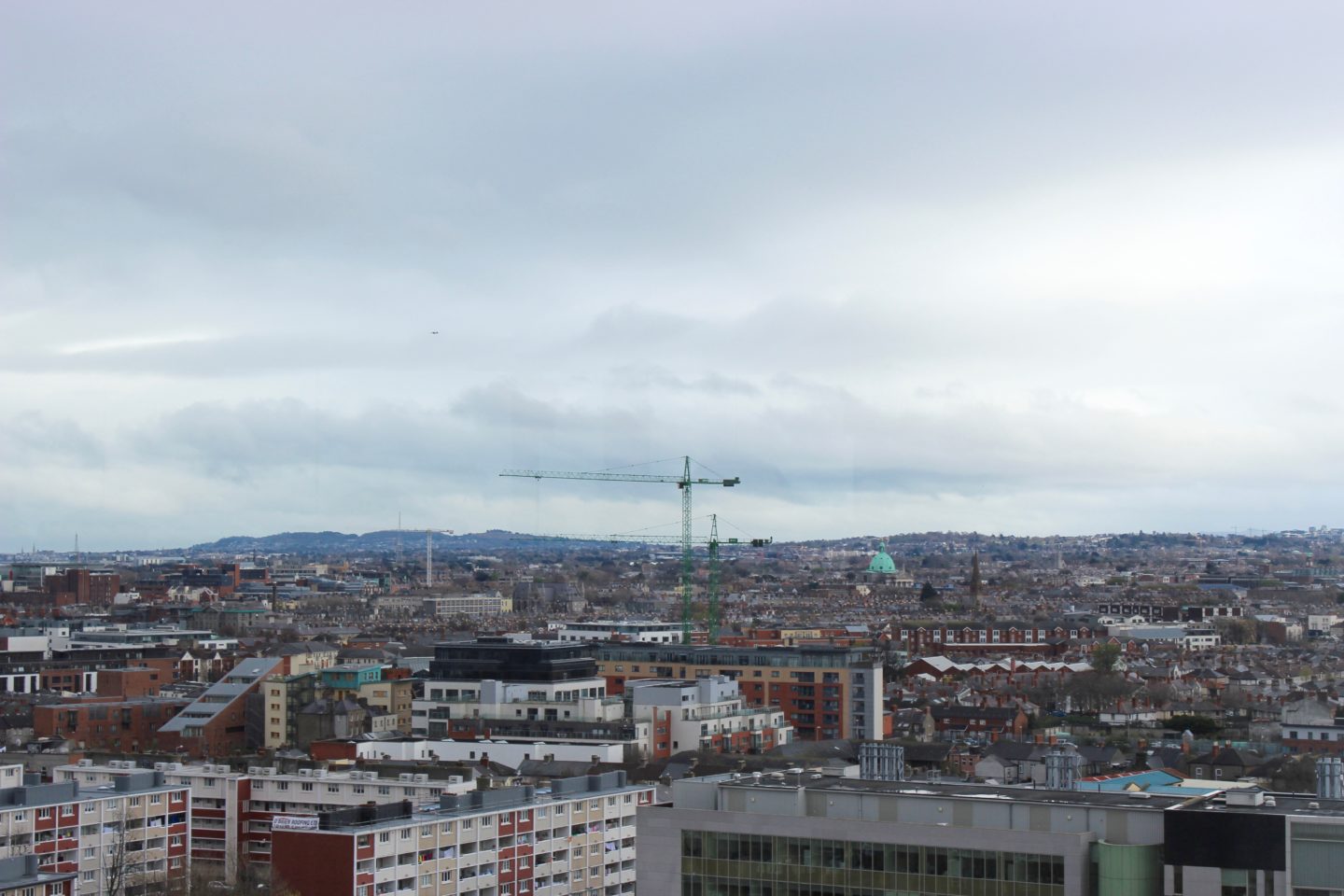 That evening, we were able to meet up with our friends Bri and Scott for dinner and more exploring. Looking back, I can't believe I had the opportunity to travel to so many cities with so many of my close friends. It truly becomes a bond with those people that I will have for a lifetime.
We woke up at the crack of dawn early on Saturday to grab a shuttle a few blocks from our hostel. There, we began the three hour drive to the complete opposite side of the country to the Cliffs of Moher! Honestly, if you only have the opportunity to do one thing, the Cliffs of Moher  should absolutely be it. One of my favorite things was the cross-country drive, and looking at the window to see how the scenery changed. All of the cliches about Ireland I had in my mind were true! We saw pastures full of sheep and herding dogs and shepherds and it was just all. so. green!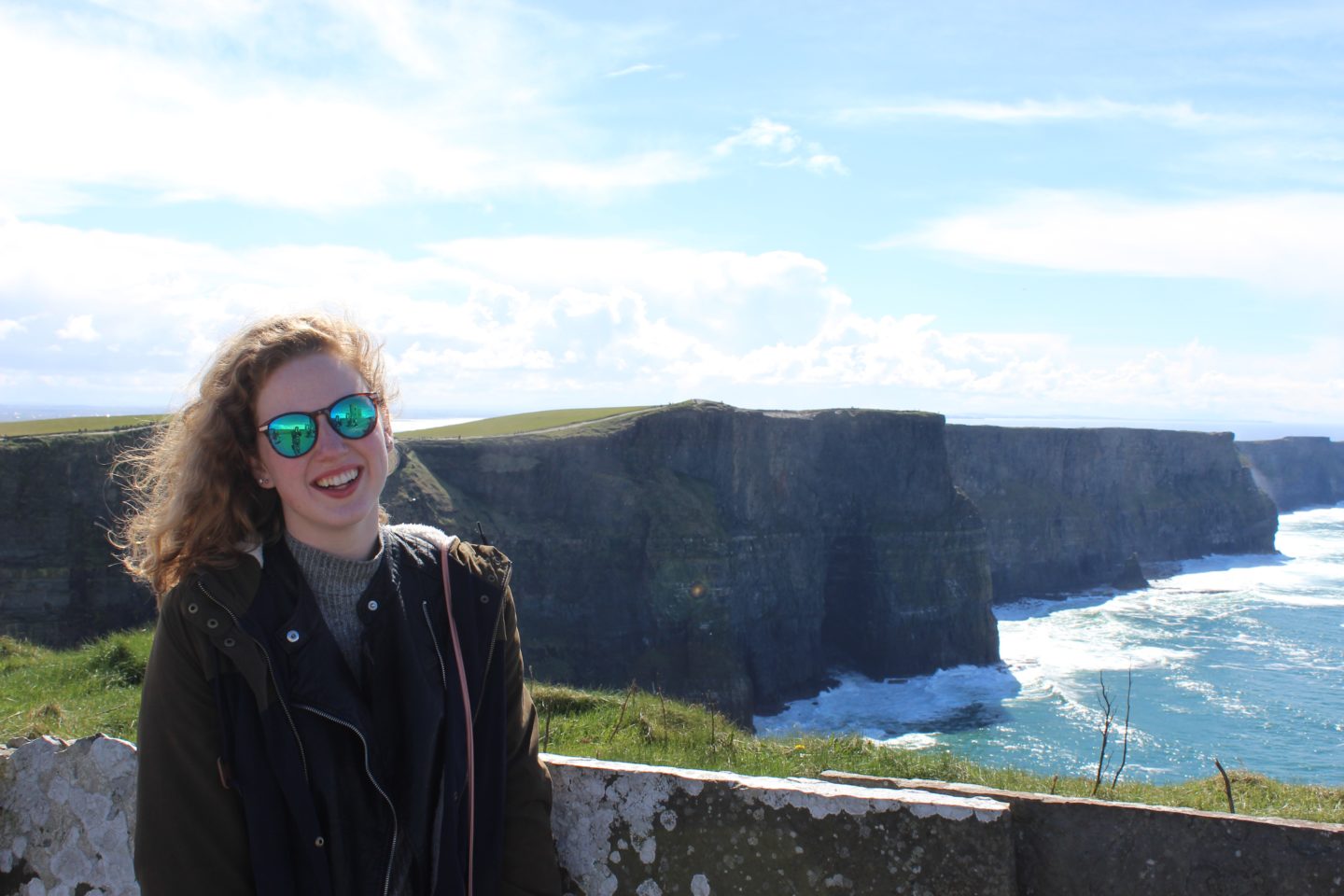 The Cliffs of Moher were so incredible that absolutely no picture will ever do it justice. There weren't any railings at the ledge, so you could sit right along the drop-off, despite the "rocks may give way" signs posted occasionally along the edge. I loved the adrenaline that came with sitting on the edge, looking out to sea, and taking in a breath full of fresh, clean air. It was terrifying to see how far the drop would be, but incredible to marvel at the Cliffs of Moher.
Sunday, before our flight left Ireland and we went back to Alicante, we were able to walk around Trinity College and do a little bit of shopping. We ventured to a few cool coffee shops on Sunday, too, which of course is something I always love to check out when exploring a new city! We were pretty tired though, since this was the final day of a three week traveling period, so we headed to the airport a bit early and prepared to head back to Alicante. It was such a bittersweet feeling.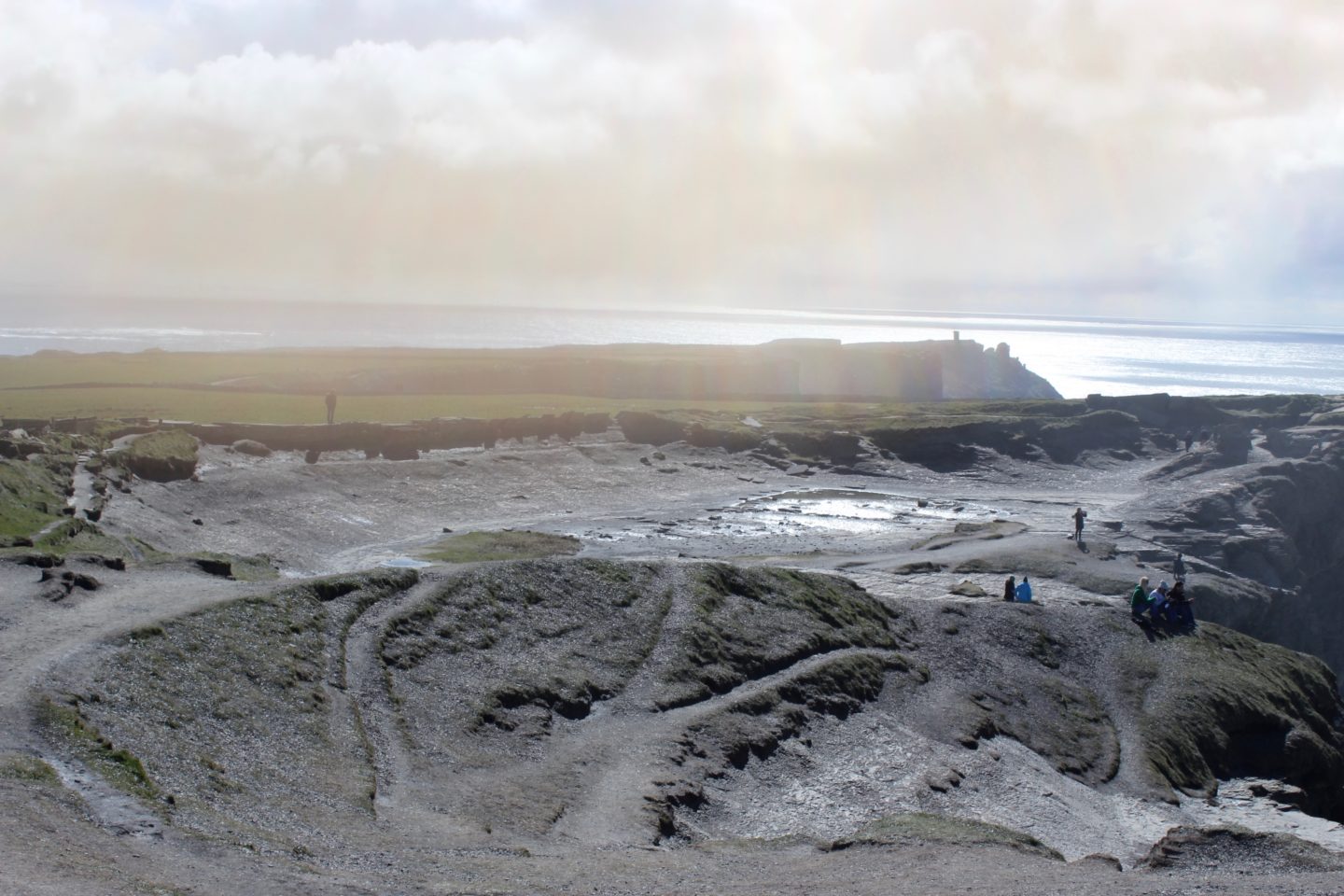 While it was sad not to be constantly traveling like we had been, I am forever grateful for the time that we had. Josh and I had the most incredible time together and it really truly helps you learn so much about someone when you travel with them.
I hope this inspired you to travel more! Much love,
Olivia