After living in Europe for about six months, I had plenty of time to discover some of the coolest coffee shops I could have ever imagined. When I came back home to the U.S. this summer, it made me all the more determined to seek out even better coffee shops here at home, since the past six months set the bar pretty high for my coffee standards! While the following list doesn't even begin to describe my coffee shop experiences, these are a few of my favorite locations across Europe in a variety of cities and countries! If you're looking for more ideas in different countries or cities, please feel free to comment below, because I have plenty more recommendations where these come from!
This is one of those coffee shops that I could have stayed at for hours. After getting to chat with the owners (who happen to be the sweetest sisters from Guatemala) and hear their stories, it was so incredibly powerful to understand the inspiration behind the coffee shop! Torch's mission is all about empowering people. I also just get so excited about companies that ethically source their coffee. 100% of Torch's coffee is sourced by farmers who are sustainable financially, environmentally, and socially. That's something to get excited about, people! They also have a location in Raleigh, NC so you can bet that in the back of my mind, the option of a road trip there is always an idea!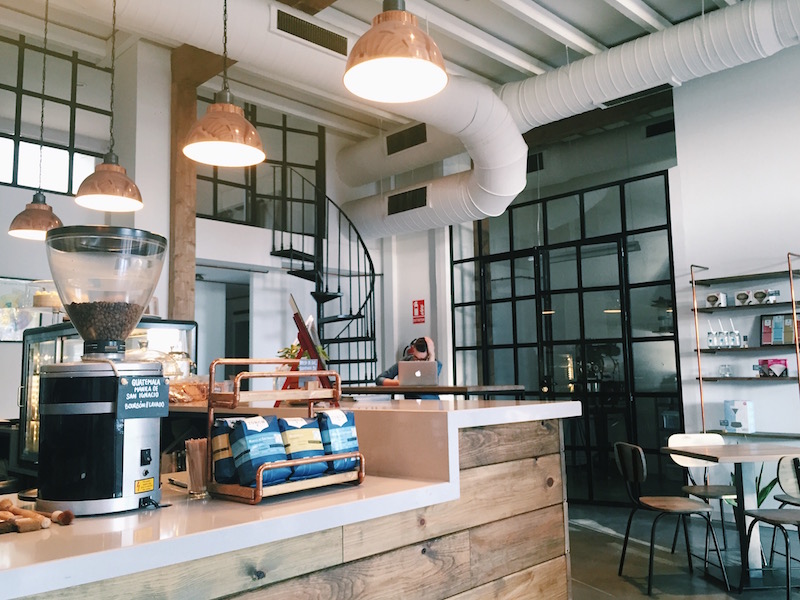 Istanbul, Turkey // Twins Coffee Roasters
When Josh and I got caught in a downpour walking around Istanbul while doing some exploring, we happened upon this shop. When we walked in, I instantly realized that this was one of those places that I just couldn't get over how much I loved the vibe there. With a neon pink light with Turkish writing hanging the main concrete wall, and grunge music playing in the background, I really don't think I've been in a place that's so hip before. This was the first coffee shop I was inside during my six month stint in Europe, so this one is really memorable to me, especially I think because it was such an awe-filled experience (like most of the time I sat there thinking, wait. I am in Europe. This is really happening. Oh my gosh).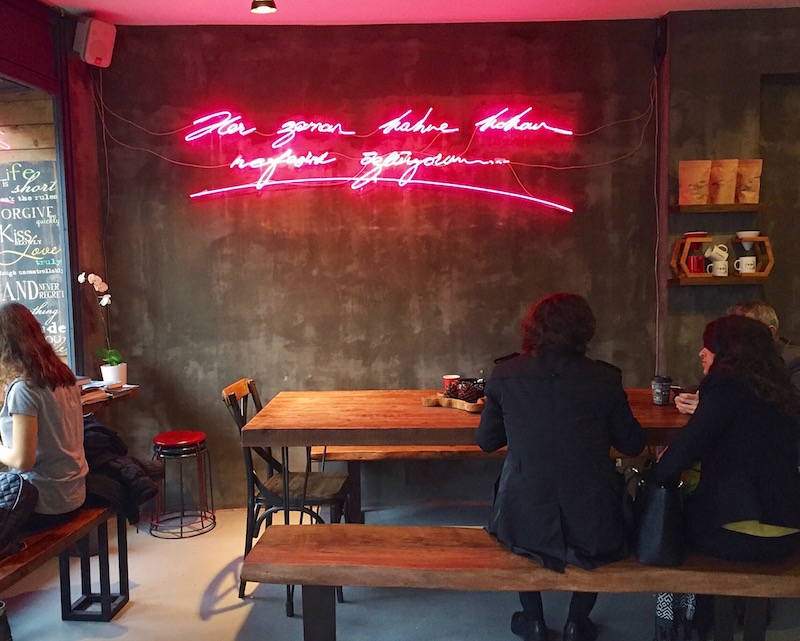 Overwhelmed by the vendors following us around the medina for hours, trying to get us to by their wares, Josh, Kelly, and I finally found refuge at Atay Cafe Food, a wonderful oasis in the middle of the medina. If you'll be doing a lot of shopping in Marrakech's famous Medina, this is a perfect place to grab some peace. When I say peace, you'll only truly know what I mean if you've been to Marrakech. With the people yelling at you trying to sell you things, the constant overwhelming smells, and the bustling crowds, I felt such a need for peace after a while of being in that scenario. This is owned by Frenchmen and it is such a classy take on Moroccan style. There are beautiful art pieces and Moroccan style rugs hanging along the walls, and the bright accents of the pillows and decor contrasted quite chicly with the plain white walls. After enjoying some of the best food ever, we tried their coffee and were amazed with how delicious it was. I would highly recommend anything from here. Between Kelly, Josh, and I, we all tried plenty of different food and drinks and it was all 100%.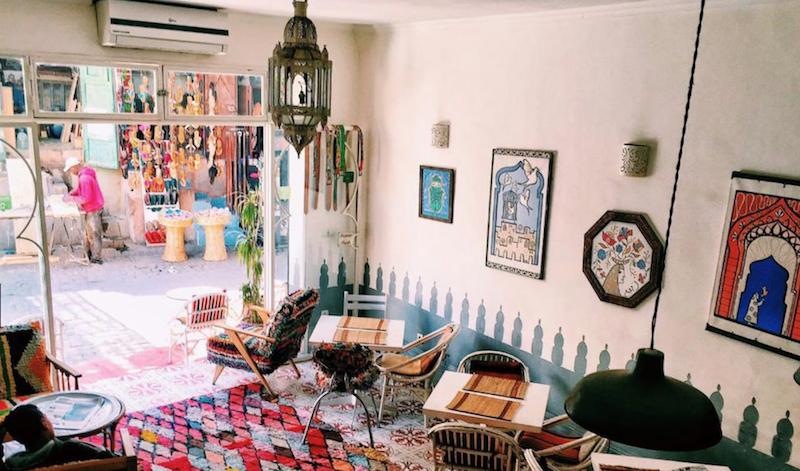 Málaga, Spain // Dulces Dreams Boutique Hostel + Café
If I could just live in a coffee shop, this one would be it. Fortunately, that's very possible, since this cafe also doubles as a hostel! This place was just around the corner from our Airbnb while we were in Málaga, and I am not ashamed to say we went here every morning for breakfast during our weekend. From the delicious food to the lattes that I was literally obsessed with. Also, this place gave me some major gallery wall inspo, I mean come on how cool does this wall look? All of the art pieces were on sale and we made by locals from Málaga!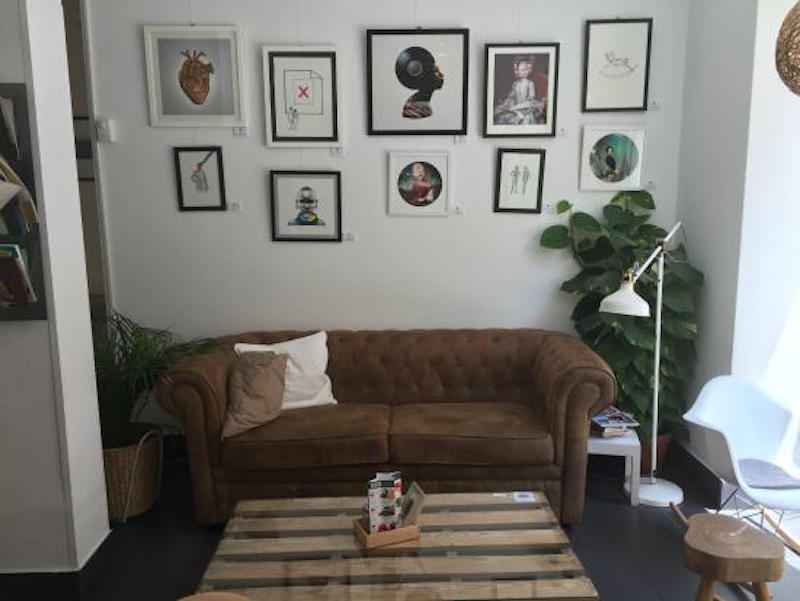 After arriving in Denmark at about 6am, Josh and I couldn't think about anything else when we landed in the Copenhagen airport other than coffee. We proceeded to get off the airplane and headed directly to The Coffee Collective, even before checking in to our Airbnb. The shop itself is inside of a large indoor farmer's market, so the entire surrounding area is amazing to wander around and explore also, as you have your cup of coffee in hand. Josh and I both ordered vanilla lattes and they were incredible. The Coffee Collective baristas truly know their thing and they take what they do SO seriously. Have a conversation with one of them and their eyes will light up as they talk about their art.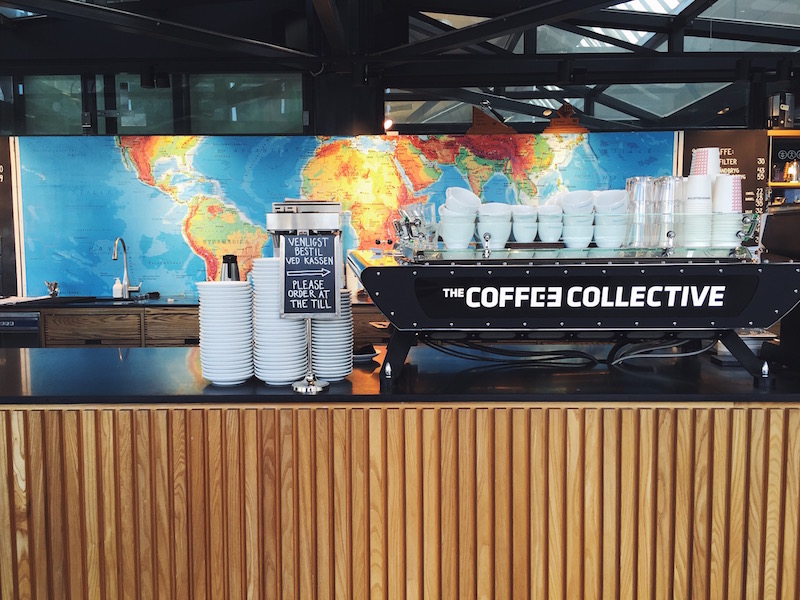 I saved the best for last, I guess! Living in Alicante for almost six months, I was always on the lookout for a great new cafe to open. Well, about halfway into my time spent in Alicante, I noticed this storefront with a sign announcing that a cafe was going to open soon there. After attending the Grand Opening for Farmer's Cafe, I knew this was going to be my place. You know the feeling when you step inside a place and you know you're just going to spend a lot of time there? That was exactly how I felt after I came here for the first time. Just a few weeks later, Josh and I quickly became friends with the sweet owners, Andrea, Ruben, and Daniel. The Farmer's, as we like to endearingly call them, became our best friends from the semester. We would spend hours at Farmer's speaking in a weird mix of Spanish and English, since all of us can at least conversationally speak both languages. Some of my best memories of Alicante took place inside of Farmer's, and they were all accompanied by a cappuccino!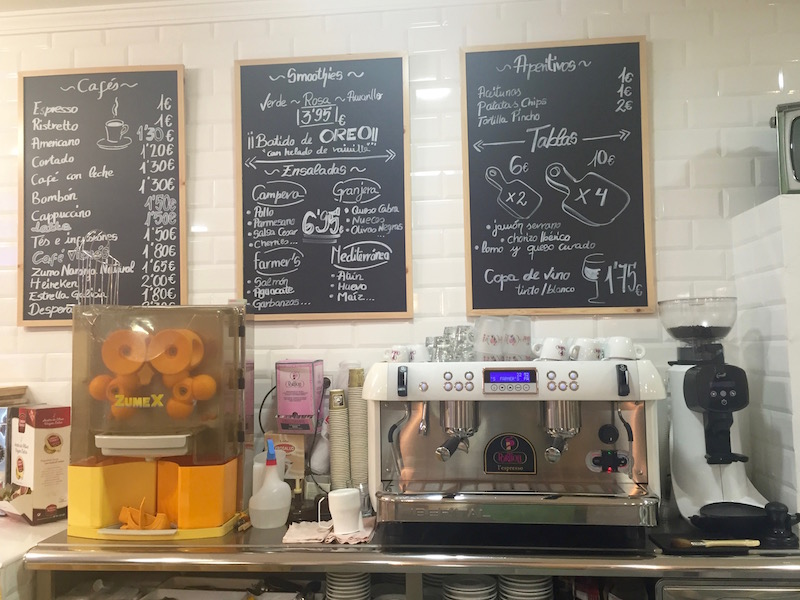 As you can tell, some of the best memories of coffee shops around Europe were often because of the conversations that were had or the friendships that were built there. One of my favorite aspects of coffee, all over the world, is that it can bring people together. There is such a sense of community that revolves around coffee, and that is something that I absolutely treasure. While it's easy to plug in some headphones and enjoy your ristretto or americano in peace, there is also something quite beautiful in spending that time sipping your coffee over a great conversation. What do you think? What are some of your favorite coffee shops here in the U.S. or around the world? I am constantly growing my list of places that I need to go to, so I'm open to all the more ideas!
Much love,
Olivia