This shop has been compensated by Collective Bias, Inc. and its advertiser. All opinions are mine alone. #SkinClearingMakeup #CollectiveBias
Hey friends!
This semester, I've had a rude awakening – and I mean that in the most literal sense. The rude awakening I'm referring to is my alarm clock that wakes me up around 6am most mornings, due to my 8am classes. Of course now that it's senior year, I thought I would finally have the schedule of my dreams. That proved not to be true since some of these classes are only offered at that beautiful time slot of 8am. While I'm the farthest thing from a morning person, if there is anything this semester is teaching me, it's that you're never too old to change your habits.
I can remember back to my only other 8am in the history of my college career; my 8am chemistry class during freshman year. Those were the days that I would purposefully (yes purposefully) sleep in the night before's makeup just so I could still have a bit of makeup on for my early class without actually waking up in time to do my makeup. Disgusting…I know.
Nowadays, as I often write about, I've changed my ways a bit, as I don't wear as much makeup but rather focus on keeping my skin as clear and fresh as possible. For the past year or two, I've been on a mission to have a makeup routine that not only highlights my natural features, but also one that keeps my skin as acne free and smooth as possible. Enter, my favorite newest line of makeup that has changed my morning makeup routine completely. Neutrogena® SkinClearing® line of makeup has been a lifesaver for my crazy schedule because of how easy it is to apply as well as it's multipurpose ways!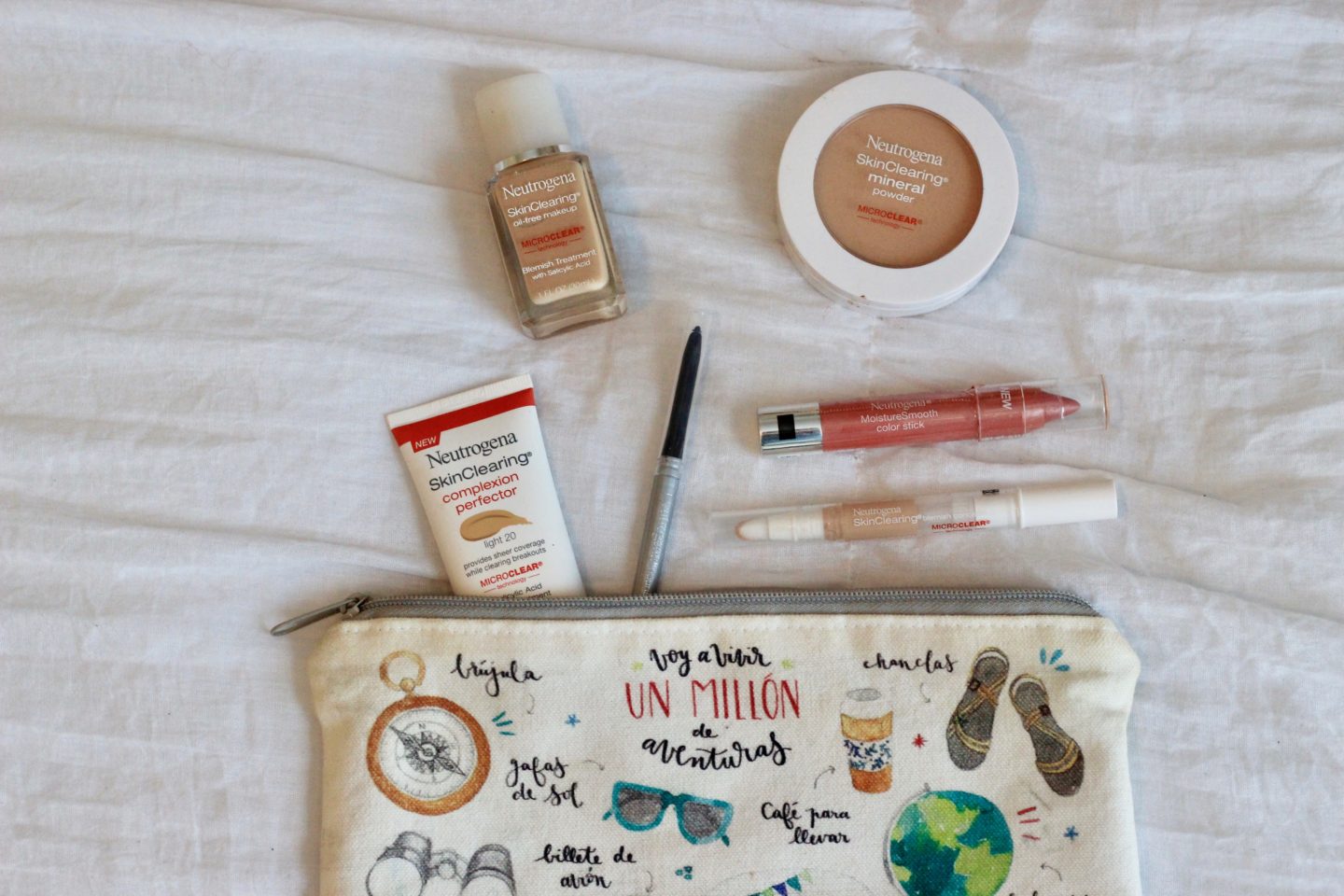 CVS carries the Neutrogena® SkinClearing® line, so it's always super easy to swing by on my way to my house and grab my favorite products. Neutrogena® SkinClearing® makeup covers up and helps prevent breakouts while you wear it, so what is there not to love?!
Without further ado, I'm going to share my morning routine with you even with the times broken down so you can see exactly how fast this makeup routine takes me!
6:15am – My alarm goes off. I drowsily stumble across my room to turn off the alarm and turn on all of my lights so I don't get back in bed and fall back to sleep. 🙂
6:20am – Make my bed, brush my teeth, wash my face, brush my hair and throw it into a ponytail.
6:30am – Apply the Neutrogena® SkinClearing® Complection Perfector.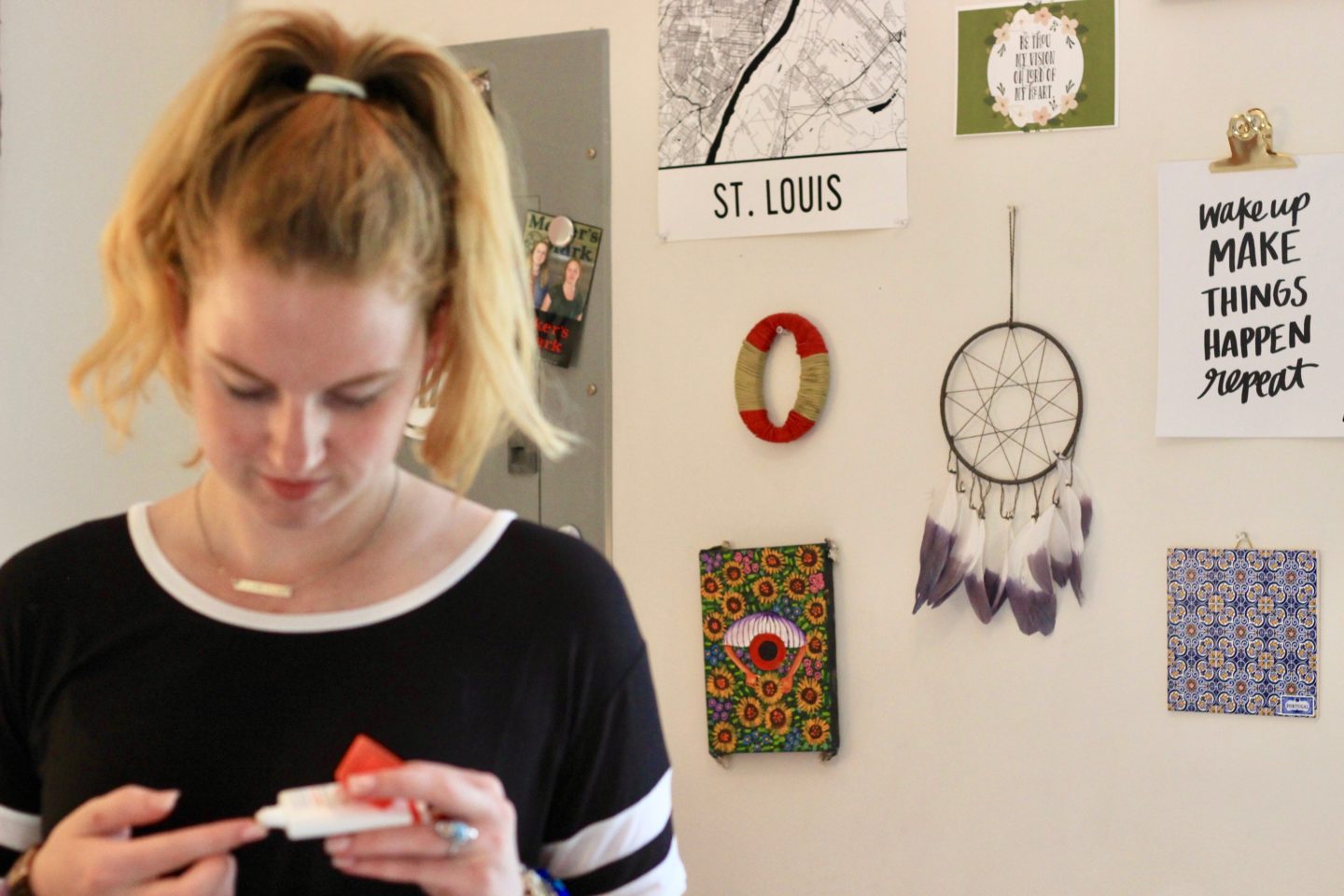 Basically, I just rub this consistently all over my face and smooth it in with my fingers. I love the Micro-Clear technology because it boosts the power of salicylic acid by breaking through oil and unclogging pores for fast acne relief. Developed by dermatologists, this oil-free formula controls shine and won't clog pores.
6:31am – Grab the Neutrogena® SkinClearing® Blemish Concealer and rub it over specific problem areas of my skin.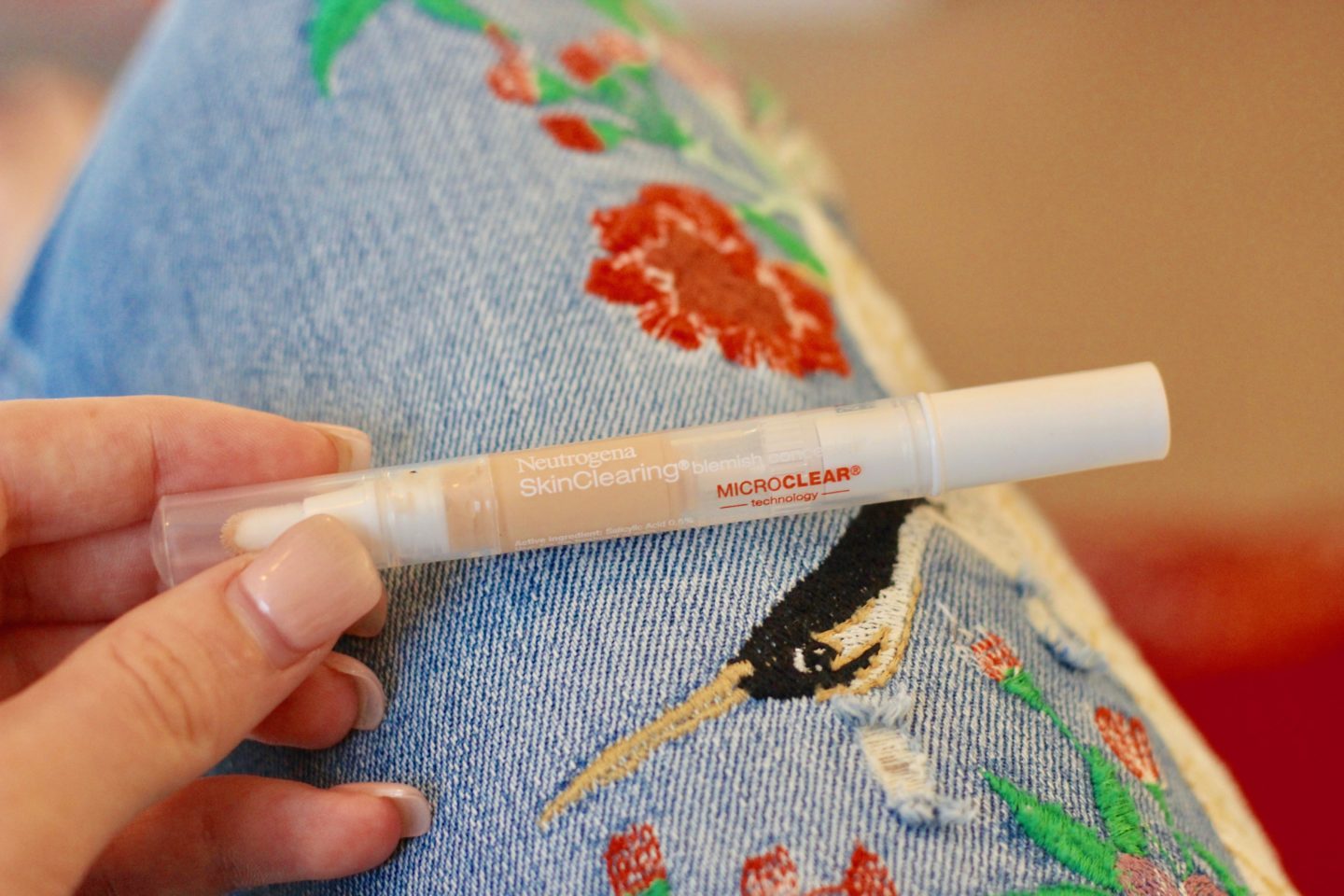 This stuff is the absolute best because it helps conceal blemishes and help clear them up with Neutrogena® SkinClearing® Blemish Concealer. Providing natural-looking coverage, this double-duty concealer reduces the visibility of acne and other blemishes while also helping to improve your skin. The formula contains Micro-Clear technology with salicylic acid acne medicine to help quickly eliminate and prevent pimples. Developed by dermatologists, the Blemish Concealer is non-comedogenic and oil-free so it won't clog pores.
6:33am – I dab the Neutrogena® SkinClearing® Liquid Makeup foundation all over my skin and blend in with a makeup sponge.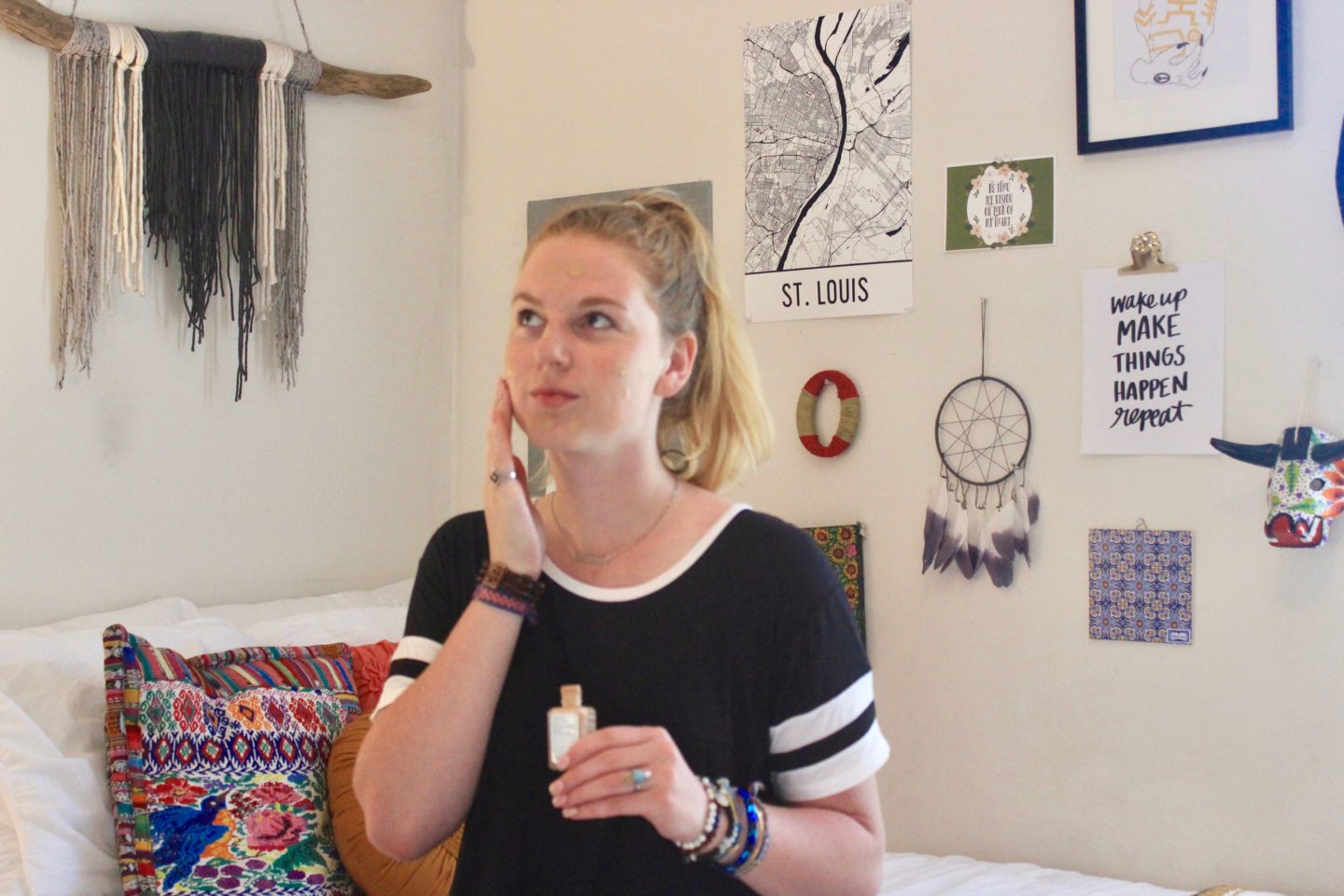 Formulated for acne-prone skin, it is the first and only liquid makeup foundation with Micro-Clear technology that not only treats blemishes, but also helps prevent emerging acne breakouts for clearer skin.
6:35am – Using the included applicator puff, I spread the Neutrogena® SkinClearing® Mineral Powder over my face to ensure that it is all smoothed in nicely to avoid any kind of shine on my skin.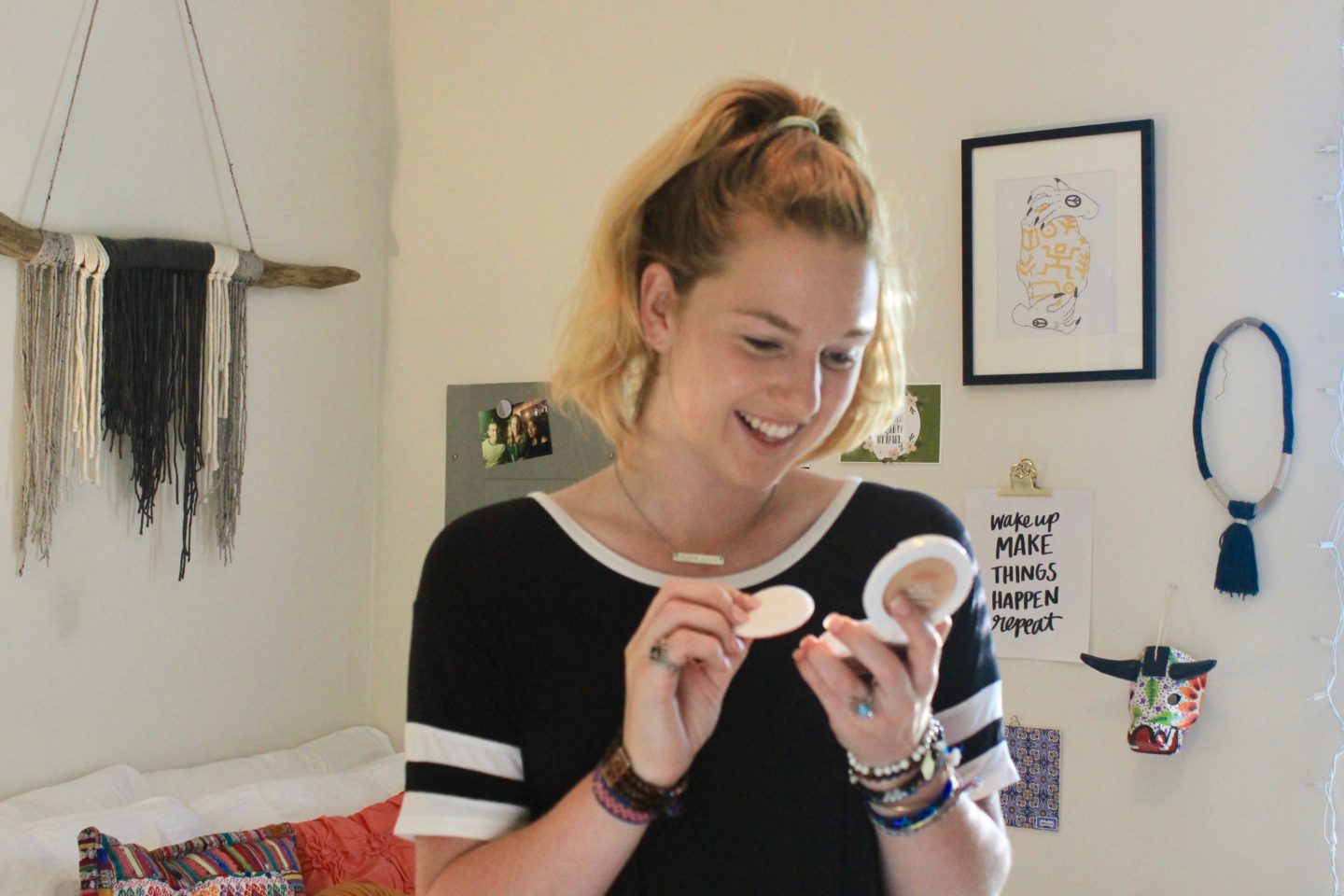 This product's two-sided applicator provides a fresh, shine-free look. Containing minerals plus Micro-Clear technology with salicylic acid acne treatment, this non-comedogenic formula works to clear and help prevent breakouts while being gentle to skin. The compact also contains oil-absorbing powders for shine control that's gentle on the skin. A mirror and applicator puff are included.
6:36am – I swipe the fun shade of my Neutrogena® Moisturesmooth Colorstick across my lips and instantly the bright pop of color makes me seem ready for the day!
The Colorstick is made with fruit extracts including mango and shea butter, so your lips feel moisturized for hours and days!
6:37am – Finally, I create a perfect finishing touch with the Neutrogena® Nourishing Eyeliner, completing my look for the day.
I always use black eyeliner, and it glides on smoothly to enhance eyes all day without smudging or fading. Subtle light diffusers make whites of eyes appear whiter, while olive oil and rainforest shea butter add nourishment.
Good luck with those early morning classes this semester! We're all in this together! Don't forget to use #SkinClearingMakeup when posting about how the line has helped you too – I can't wait to see your results!
Also, don't forget you can grab the items at CVS – this is an example of my store to show you where you can grab the SkinClearing line in your store!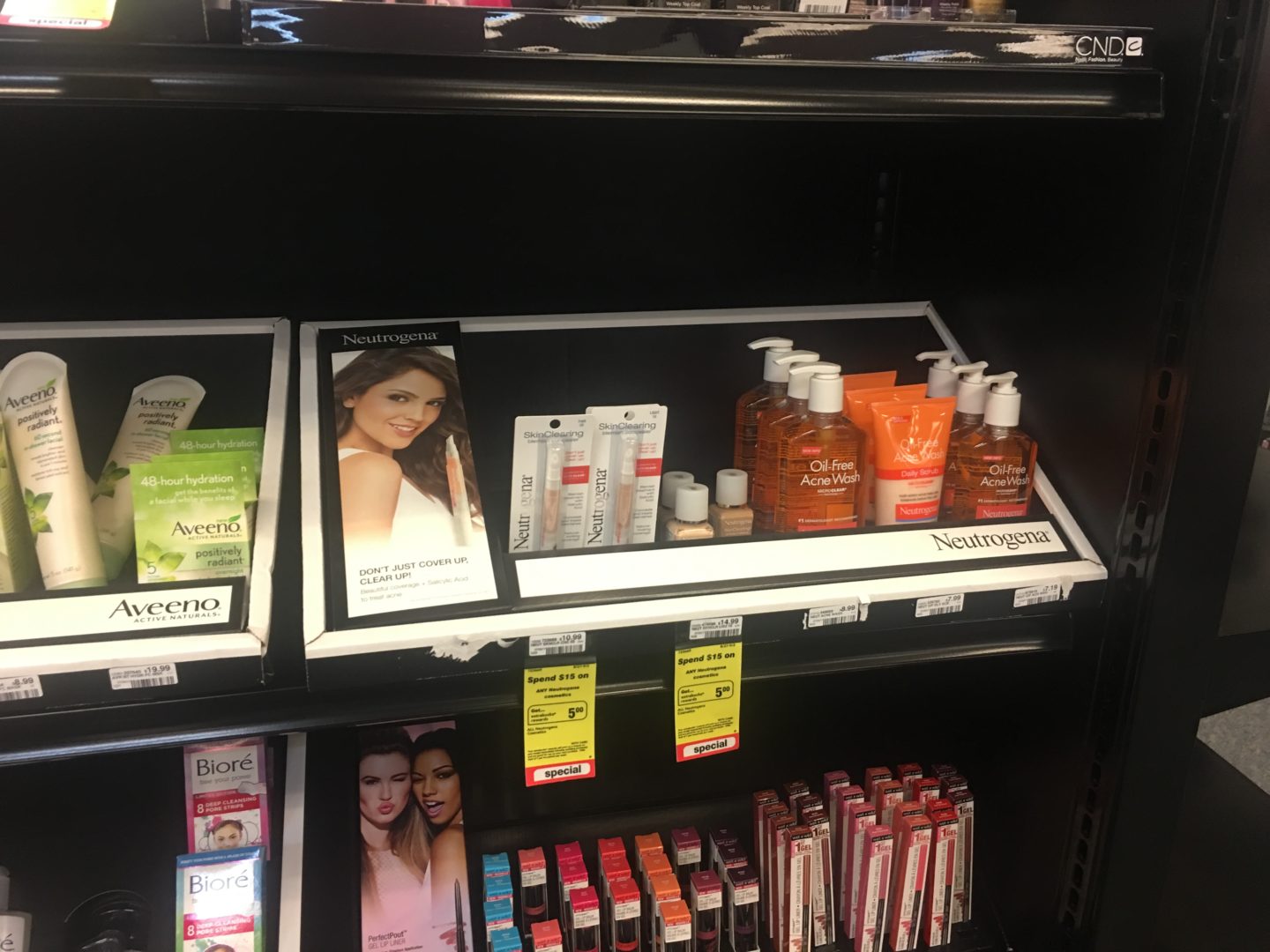 Olivia
This post is sponsored by NEUTROGENA®. I only recommend products I use personally and believe my followers will also enjoy! Some of the products mentioned were provided by NEUTROGENA® for this review.