Hello lovelies,
Tonight I had the incredible privilege to be invited to St. Louis' Fashion Week Blogger Awards & Kickoff Party! I cannot wait for all the events that are going to happen with St. Louis Fashion Week! There is just so much to do around my city if you're like me and love fashion!
My date for the evening was my lovely mother! (side note: I am so proud of her, because she has lost SO much weight, that she is the skinniest that she has ever been in my lifetime! Proud daughter right here!) We had so much fun at Bar Three Sixty, which is on the twenty-sixth floor of the Hilton in downtown St. Louis, so we got to see the entire city the whole night! Talk about a view!
Also, the lovely Christia DeShields hosted the blogger awards. She did a fabulous job and looked gorgeous! Visit her super adorable blog here.  The thing about St. Louis is that we have such a fabulous group of fashion bloggers and such a great community of ladies who are involved in it; it makes me so proud to be able to be a part of something like this!
Have a great evening ladies, and I'll keep you posted on further St. Louis Fashion Week events!
Much love,
Olivia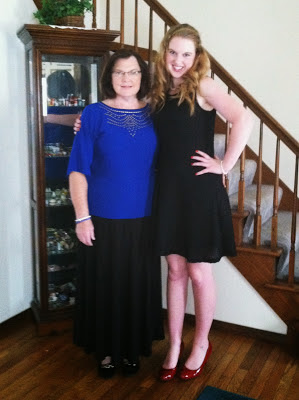 I love being able to splurge on some things, yet keep some things very, very reasonable. For example, while the BCBGMAXZARIA dress was a little pricey, the shoes were only $20, so I feel great about this outfit!