Out of all the places I've traveled to recently, the one place I really wish that I would have had more time in was Milan. It should be noted that I did three weeks of constant traveling with Josh during our spring break, and we were all over the place. During that time, we traveled to Seville, Brussels, Copenhagen, Venice, Milan, Budapest, and Dublin. Obviously there were a few things I would have done differently out of all of that and one of them is that I wish I could have spent at least three days in Milan.
As a fashion merchandising major, I was at heaven among the noisy, bustling streets of one of the world's fashion capitals. The headquarters of some of the most famous designers are located here, so seeing showrooms for Gucci, Prada, Versace, etc. is a pretty common thing (but it wasn't common enough that I could get over the freaking out feeling every time I saw one of those stores). The architecture of the city is absolutely mesmerizing and we stayed in this Airbnb with the most amazing view of the city. I'll post the link to the my Airbnb account HERE so you can get yourself some $30 free in travel credit and HERE for the link to where we stayed so you can see how amazing it was.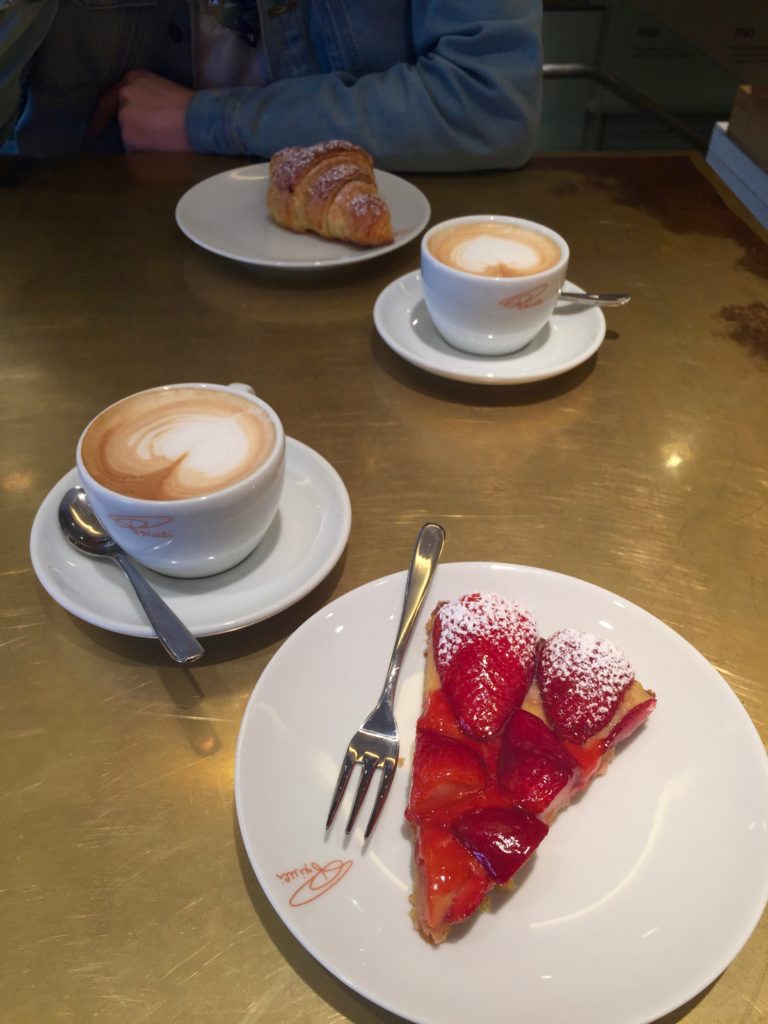 We got to Milan bright and early, since we had taken a train at the crack of dawn from Venice. We kicked off our morning in Milan by sipping on some cappuccinos (Italians do it best, you know) and eating croissants and strawberry scones at Princi Cafe, which was just steps outside of the door to our Airbnb. We stopped here at the recommendation our our host, and she couldn't have given us a better place to go. The countless pastries and goodies that they were serving at Princi were to die for, and it took all the self control in me not to eat my way through the cafe!
After fueling up a bit, we moved on and walked towards downtown a bit more. It was a dreary Sunday morning, but despite that, there were quite a bit of people out and about. First, we stopped at Galleria Vittorio Emanuele II, the iconic building that is the world's oldest shopping mall which has been flourishing since it opened in 1877. Honestly, not only did the architecture but the store selection blow me away here. Some of the dreamiest stores lined the sides of the mall, from Prada and Valentino to Missoni or Dolce & Gabbana. To be completely honest, I felt so out of place. High fashion isn't necessarily something that I would ever consider wearing myself, but I can't describe the feeling of walking in some of those stores in Milan and looking at some of the most exquisite and expensive items I have ever seen in my life.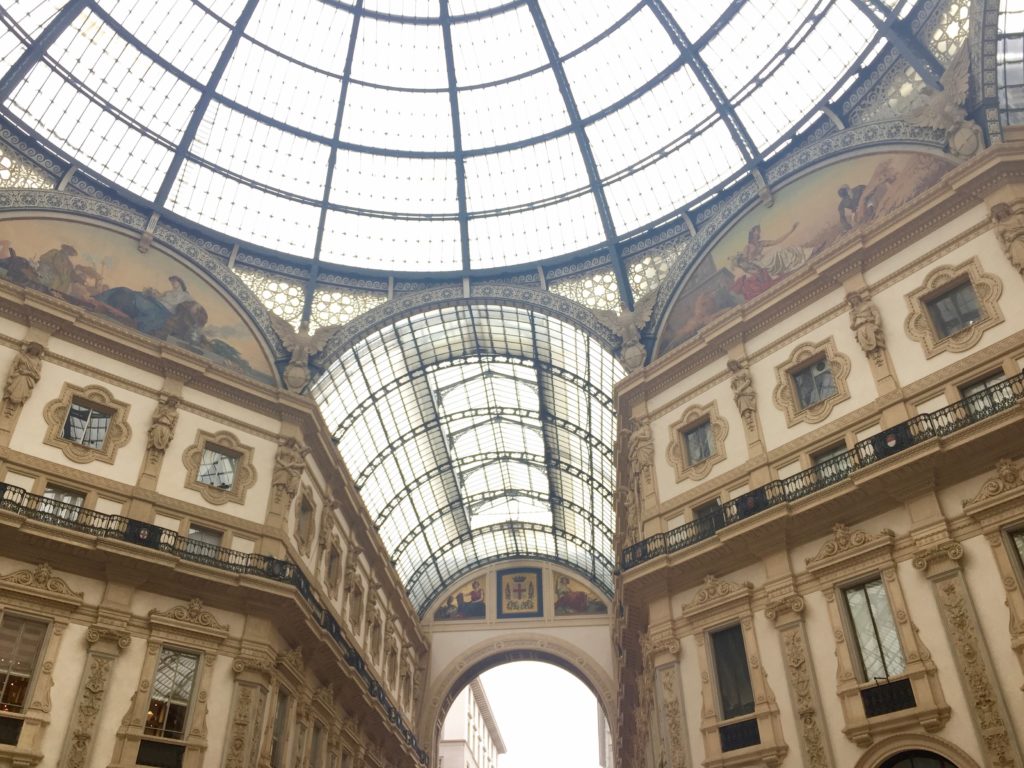 Right outside of the mall is the Ferrari store, which Josh and I spent quite a bit of time in. It's quite the experience if you get the chance to go inside of the store. First of all, there is such an unbeatable high energy inside of the store that makes it a great place to be, with all kinds of racing noises playing through the speakers. Additionally, with perks like driving stimulators and a model of a Ferrari made out of Legos, it's a pretty fun time.
After that, we walked to the Duamo to begin one of the most memorable experiences of the entire spring break trip. We tried to figure out what package we should buy, since you need to obviously pay to get in. There are lots of different package deals, which grant you access to various parts of the building. Since we were trying to budget extremely carefully, we ended up only getting tickets that gave us access to the first floor of the cathedral itself. In a different circumstance, we might have wanted to see other parts of it (I know that the roof of the Duamo is a famous view of the city and a popular tourist destination) but honestly this ended up being the perfect option for us. Like I said, we happened to be in Milan on a Sunday morning, so as it turned out, we entered the cathedral right as Mass was starting. What an experience! I honestly have no words for the feeling of worshipping in such a beautiful place as we listened to the liturgy echoing all around us. While I couldn't understand everything being said, I was able to comprehend a surprising amount using my Spanish knowledge and finding the similarities between the languages.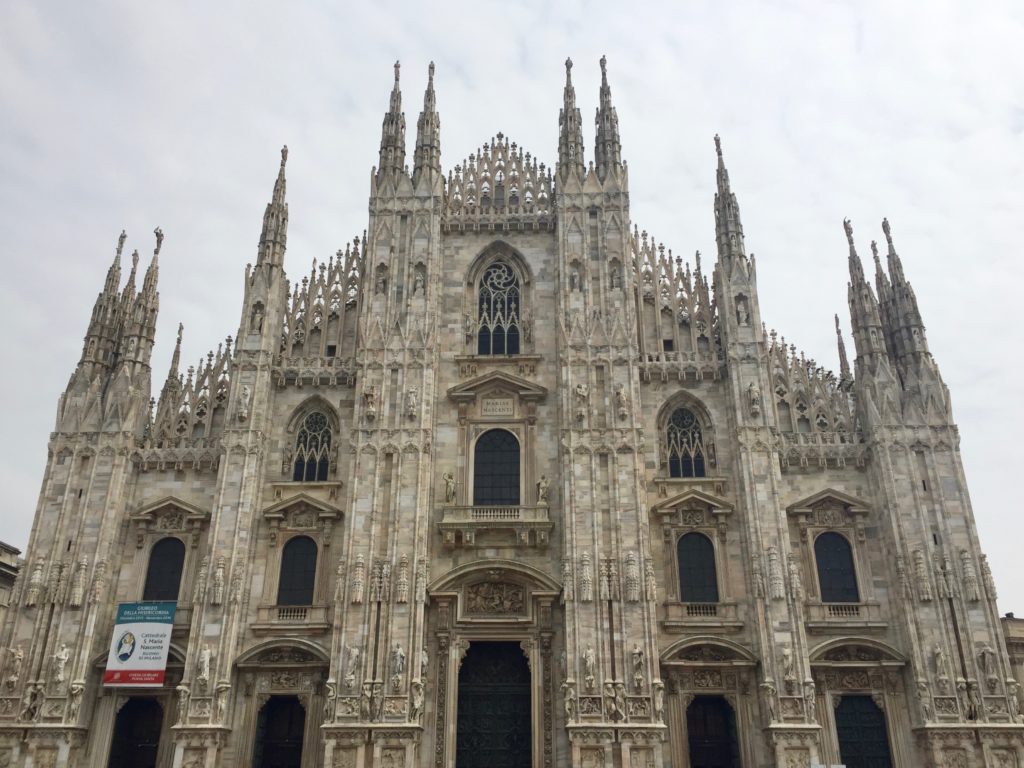 After that amazing experience, we grabbed some pasta and coffee at a sidewalk restaurant and simply enjoyed the day. By the late afternoon, the sun was finally out and people were out in even greater amounts than they were in the morning. After we ate, we did what we of course had to do in Milan…shop. We conquered block after block and street after street of a mix of high end and budget stores that were full of some of the most beautiful displays I'd ever seen. At times, though it was cliche, I felt the need to check and see if I was dreaming because of how surreal this day felt.
Unfortunately, I really wanted to go out for the night to see Milan at nighttime, but I actually got pretty sick towards the evening. Thankfully, Josh was super sweet and went to the grocery store and picked me up some food and tea for dinner and all we did for the evening was watch Zoolander. Not the ideal way to spend part of your 24 hours in Milan, but we definitely made the most of the situation and it worked out great.
Since our airplane to Budapest left at I believe 7am, we traipsed through Milan in the middle of the night to the train station which is where we took a train to get to the airport. The funny part of traveling is that you get to see other people at some of their best and worst points, so looking back on this point of the trip, I'm pretty sure Josh saw me at one of my lows, haha. I was a basket case, to say the least. Not only was I still pretty sick from the evening before, but I am in no way, shape, or form a morning person. We literally were sprinting through the dark, empty streets to ensure that we made this one specific train and I can hear Josh's words so clearly in my head telling me that I'm doing great but I need to run faster and then I can sleep once I'm on the train.
Thankfully, we made it on time to the train, and consequently the airplane that took us on to Budapest. We had a bit of a rushed exit of Milan and I felt like we said ciao a bit too abruptly, so I just can't help but wish I could go back and see a bit more. There's always next time, though…I believe without a doubt that I'll be back to explore Milan once again, only with a little bit more time on my hands next time!
Much love,
Olivia